2020 Annual Food on Demand Study
The 2020 Food on Demand Study reveals who's running the table in off-premise delivery and strategies for your brand to hit the jackpot.
240 Shops | 4 Services | 3 Cities | 2 Dayparts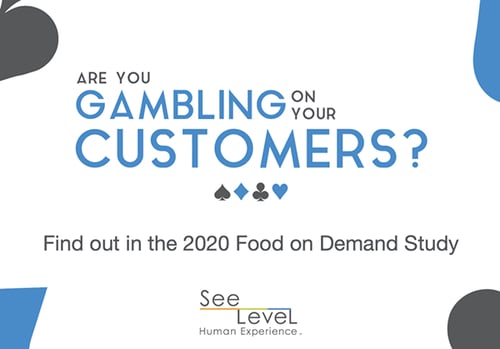 The Most Comprehensive Food on Demand Study That Covers:
240 SHOPS
Feb. 2020 - Mar. 2020
4 SERVICES
DoorDash, GrubHub, UberEats & PostMates
3 CITIES
Atlanta, Austin, San Diego
2 DAYSPART
Lunch & Dinner
What's in the cards?
Download the third annual Food on Demand Study to learn what's in the cards for the food delivery game. Get access to the latest off-premise dining and third-party delivery trends and statistics, including:
Who is on top in the delivery game?
Can customers easily order online?
Which companies meet expectations?
Do multiple pick-ups affect CX?
Do drivers represent brands well?
And more!
Play Your Cards Right
Curious how the delivery game has changed since COVID-19? Learn how to play your cards right in your industry in any environment with a customized customer feedback program.