COVID-19 Health Screening
Enabling businesses to proactively manage the safety and well-being of employees & visitors as we combat COVID-19.
✔ Secure
✔ Mobile-friendly
✔ Contactless data-capture
✔ Zero installation required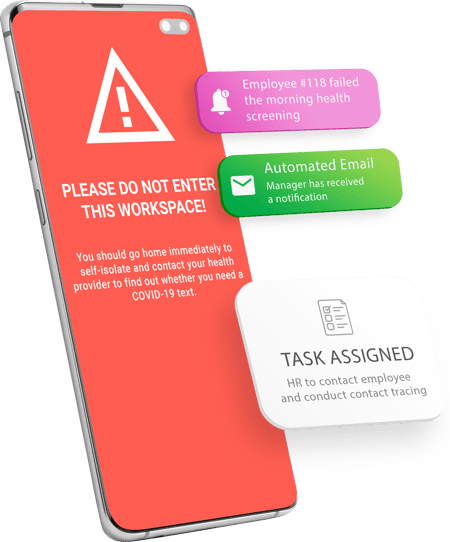 So much more than a web form

Maintain your business operations and make the safety of employees and visitors a top priority.
Employee Screening
Return to work safely by enabling employees to self-assess for COVID-19 symptoms. Identify risk factors before entering the workplace and communicate easily with management. Save a shortcut on smartphone home screens for quick and easy completion of the health screening.
Visitor Screening
Deploy QR codes and easily gather contact information, screening visitors before they enter a workplace. Customize the results page to deliver instant feedback on whether it is safe to enter. Download printable signage and enforce your operational standards. Manage traffic in and out of every location, without any physical interaction.
Try it out!
Scan the QR-code and launch the COVID-19 Health Screening.


Getting started is easy as 1,2,3
Beautifully styled templates ready to use out-of-the-box!
Access Health Canada and CDC screening questionnaires, pre-built and ready to go. The COVID-19 Health Screening can be used anywhere, on any device. Deploy screening questionnaires via email, SMS, website, or QR code.
Benefits:
✓ Easy-to-use
✓Add locations to pick-list for enhanced reporting
✓ Bulk upload contact information
Enable employees to self-assess.
Use a QR code, schedule a daily email or SMS distribution, or link to the web. Manage exposure, and mitigate risk, with quick and accurate communication across the business.
Benefits:
✓ Email notifications, triggers, and alerts
✓ Securely collect health information
✓ Enforce operational best practices
Set-up real-time notification workflows.
Slash admin time by triggering automatic notifications to relevant teams when data is received. Monitor results from a single unified command centre. Review real-time or historical data to uncover patterns and trends. Trigger tasks, cases, checklists to effectively remediate issues.
Benefits:
✓ Easily segment and organize data
✓ Subscribe to receive reports
✓ Manage data cross multiple-locations
GROW
Includes 500 submissions per month
Most Popular
SCALE
Includes 2000 submissions per month
LEAD
Includes 3000 submissions per month
For 3000+ submissions per month, please call.

+1 800-263-2980

Or, book a meeting using the form below.
Let's work together to stop the spread of COVID-19

Ensure that your workforce is complying with corporate policies and government COVID-related regulations.
Connect with our team to see how we can help protect your most valuable assets, your people.