4 min read
Guide to More Effective Toolbox Talks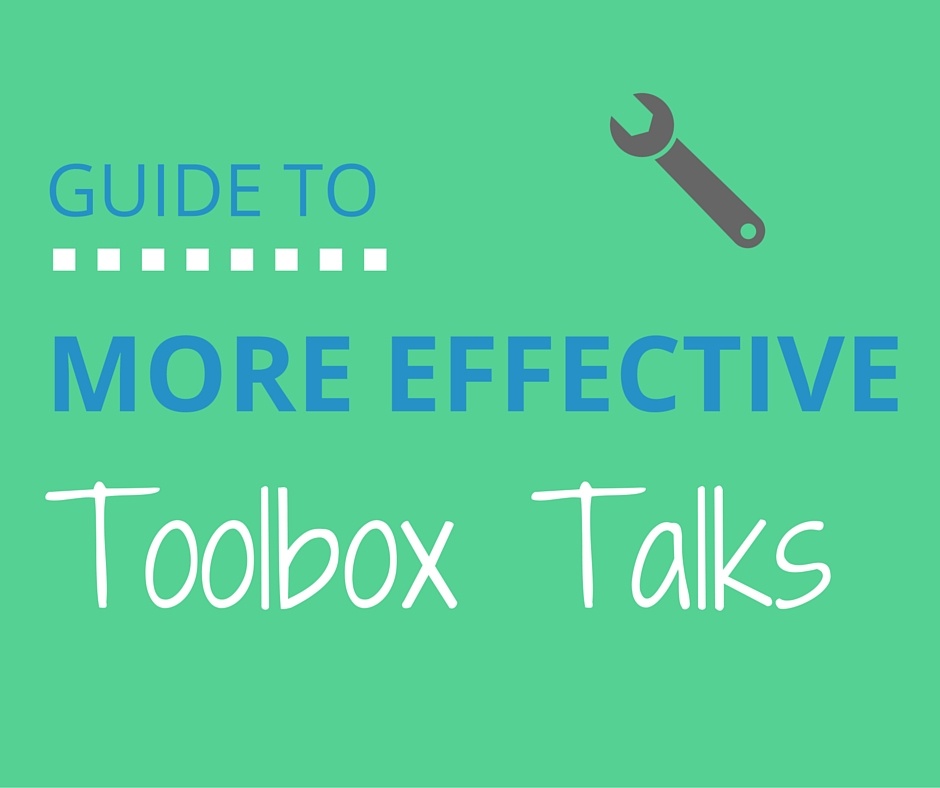 Whether you call them toolbox talks or tailgate talks, they all have the same goal - an informal safety meeting to train employees for any daily safety issues they might face.
Toolbox talks cover updates for the day, such as accident trends, explicit training requirements for workers, and any other specifics for tools or equipment that will be used. Although only 10 to 15 minutes in length, these meetings are very important, and when conducted properly, have a positive impact on safety and preparedness on-site.
Sometimes toolbox talks can be rushed through as a formality in an un-engaging way that doesn't resonate with workers - but their potential is huge if done properly. Having these talks documented and conducted to standard will help all team members in the event of an incident, whether it's preventing one from happening or knowing how to react to one.
Using a software for mobile site inspections, like IntouchCheck will help supervisors conduct their meetings up to standard, and in a way that resonates with workers.
This blog explains how to have more effective toolbox talks between supervisors and workers with the use of IntouchCheck.
Tell employees exactly what they need to do
Present information in an engaging way
Confirm that the meeting was held up to standard
1. Tell employees exactly what they need to do
When guiding teams around use of equipment and safety on-site, it's important to clearly identify exactly what they need to do in order to be prepared. Simply saying "do better clean-ups" or "make sure all equipment is put away" is not sufficient.
Explain to workers how clean-ups need to be performed, where to properly store equipment or what safety hazards need to be monitored, so that they know exactly how to perform their jobs accurately and safely.
Use IntouchCheck to create unlimited, custom checklists for every job site, project or team so that supervisors can convey proper information to the laborers . Include photos and extra instructions in your checklists for added reference so supervisors have the tools they need to fully inform workers.
This empowers teams to react efficiently and appropriately in a potential safety situation throughout the day, by ensuring that they're well aware of how to handle themselves.
2. Present information in an engaging way
Even for a few minutes, it's not always easy to hold a group's attention. Supervisors need to be prepared and captivating enough that their teams are focused and listening to what they have to say.
Use IntouchCheck as a reminder and include all points of discussion in a checklist that supervisors can check off as they go. Try engaging workers with a question and answer format, and instead of telling - ask teams what needs to be monitored that day and how they'd handle various safety situations.
IntouchCheck goes a step further by letting you record and share these results as a way of gauging worker's knowledge. Keep teams attentive by using their daily results to inspire them to better educate themselves and become more aware of proper practice on-site.
This approach ensures that supervisors have the necessary tools to cover all aspects of the meeting, while also presenting information in an engaging way that maintains team interest.
3. Confirm that the meeting was held up to standard
Toolbox talks are most effective when held by the correct person at the correct time. This means before each shift, and by whoever has direct authority over the workers, not a safety officer visiting the site - their immediate superior.
This gives workers an opportunity to share their concerns with the right people before their shift starts, and have these concerns properly documented and acted upon in time. Without the correct person holding a talk, they could bypass crucial elements. And, if this talk isn't held at the proper time then workers may not have all the information they need to work their shift safely and correctly.
With IntouchCheck, easily verify all details of a check. With time and geo-stamps, see when and where the toolbox talk was performed to establish it was at the right spot at the right time. Require signatures from supervisors after the check is complete, and view how long it took to ensure that the proper person conducted the meeting in its entirety.
This allows you to verify all aspects of your toolbox talks, while making sure they were completed up to your standards.
Conclusion
Toolbox talks are a crucial part of every day on-site, but there's no point having them just for fun. If they're rushed or the information isn't fully conveyed, they won't serve their purpose - which is to keep safety on the minds of workers. When done properly, they provide the insight and means necessary to minimize safety risks.
Start your free trial of IntouchCheck today to ensure that your teams are having more effective toolbox talks in the following ways:
Tell employees exactly what they need to do
Present information in an engaging way
Confirm that the meeting was held up to standard

Other Posts You Might Like