4 min read
3 Steps to Execute an Effective Mystery Shopping Program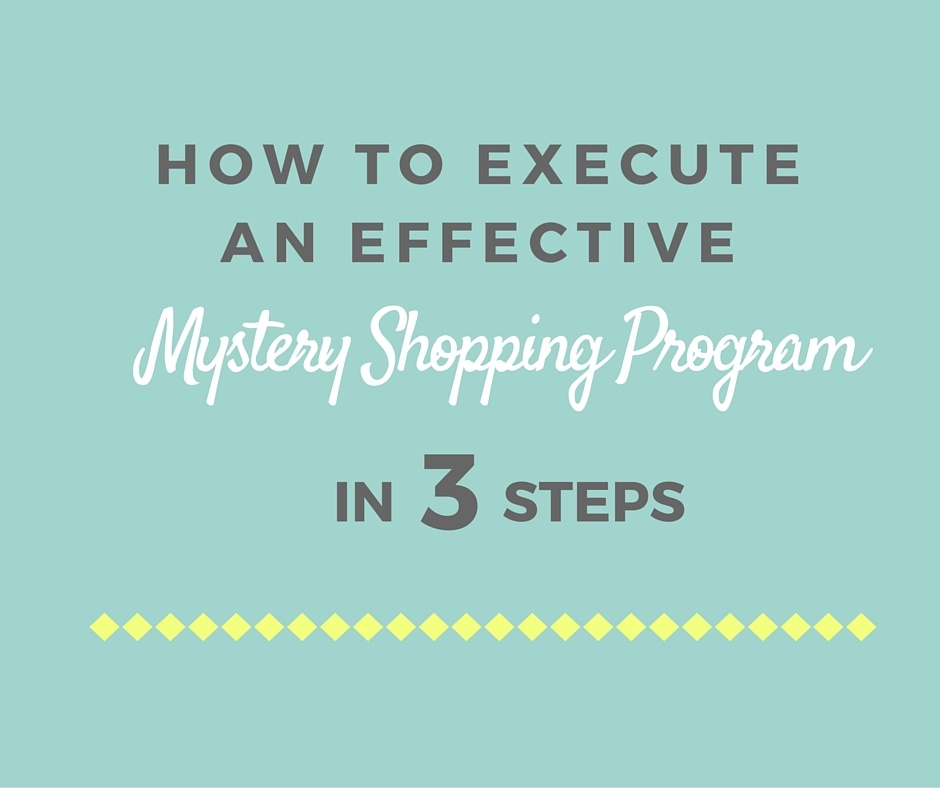 Mystery shopping programs offer a lot of valuable insight into the workings of your business, that you wouldn't otherwise have access to, by collecting information from non-biased third parties that measure your customer experience. The information you collect from these measurements is what you can utilize to improve your overall operations.
Before making any changes to better your services, the way your staff interact with customers, or any other aspect of your business, it's important to measure how it's performing.
This blog is for senior managers of large chains looking for a mystery shopping program to not only measure their services - but also improve them.
So, what do you need to do to execute a rewarding mystery shopping program? Here are three steps every senior manager should take:
Measure what's important to you
Shop your competitors
Use your results constructively
1. Measure what's important to you
Why
All companies are unique. Choose what is important to your business and what you want to measure – and focus on that.
What to do
Look for aspects of your business areas where you can improve, and start there. How do you get more loyal customers? How do you keep those customers coming back, and turn them into regulars? How do you increase sales but still maintain customer service?
Three expert tips to fair and accurate mystery shopping:
Keep it simple: Avoid complex quantitative measurements or broad general statements. Focus on specific observations with yes or no variables. These minimize potential for human error through memory constraints and promote objective responses that are not reliant on shopper perception.
Narrow your focus: Focus your program on a few key factors that are the most important for your customer conversion and satisfaction (i.e. employee attitude, upselling, cross selling, product knowledge, site cleanliness etc.) Too many measurements can increase error rates and overwhelm shoppers with multiple areas of focus.
Think inconspicuous: Ensure shoppers are not doing anything that is not typical of a regular customer to minimize risk identification. Avoid things like taking photos, measuring temperature or scanning inventory and save such measurements for operational audits.
2. Shop your competitors
Why
Measuring yourself is great, but don't just stop there. Everyone has competition, and competitor research can be just as valuable as researching your own company. Having this competitor analysis will provide more insight into the industry, market, and behaviour of consumers.
What to do
See what your competitors are doing and look for parts that you can add into your own business. Learn what the others are doing and why.
Three things you learn when you shop your competitors:
Differentiators: What makes you different? Shopping your competitors continues to give you insight into your own organization, and answer questions like: what are you doing better? What do you offer that they don't?
New opportunities: By evaluating their service and their approach, you'll see who they're choosing to target and put their efforts into. Use this information to find untapped areas of the market for your business.
What not to do: By shopping your competitors, you're seeing not only the good, but also the bad. Save yourself the trouble and learn from their mistakes. There's a good chance that what doesn't work for them, won't work for you, so save your efforts and try something else.
3. Use your results constructively
Why
Trust, enthusiasm and morale will falter if employees are worried about how program results will affect them.
What to do
Have a plan in place on how to action your results and use them to your advantage, whether good or bad. Ensure that no matter what kind of results your locations are getting, they will be used to add value to your business. Processes for dealing with both positive and negative results should be administered and communicated to staff.
Rewarding positive results
Empower employees and encourage them to do well. Building incentives for positive performance is a good way to recognize your employees for positive behaviour and motivate them to deliver to your standards. We recommend tying mystery shopping incentives into other performance indicators as well, to promote an overall positive performance, as opposed to focusing employees on a single metric. Use good results to see where you're excelling and how you can further use that to your advantage.
Learning from negative results
Learn from negative results by implementing new training, re-assessing processes and make any necessary changes accordingly. Re-evaluate mystery shop criteria, and make sure you're measuring the right things and that all your staff are on the same page. With your results, identify and repair any operational issues that don't support your service standards.
Conclusion
In order to measure your services, and also use that information to improve on them, start with these three steps to execute a flawless mystery shopping program that's right for your business.
Measure what's important to you
Shop your competitors
Use your results constructively
These three steps are a great start to improving your service delivery, but every organization is different. If you need more information or help setting up a custom mystery shopping program, contact us for a detailed, custom analysis of your business.