Are you looking to replace paper forms, checklists or audits at your business? If you're considering a solution like IntouchCheck mobile form software, but want to learn more about how it works and can help improve your business operations - then you've come to the right place.
Our two-minute explainer video tells you what you need to know about how mobile form software will help you save time, eliminate the need to manually enter audit and form information into Excel and emails, identify and fix issues become they become problems, and much more.
Watch the video below to learn how IntouchCheck mobile form software will drive efficiencies across your organization. 
Request a free trial of IntouchCheck mobile form software.
Start driving efficiencies across your organization.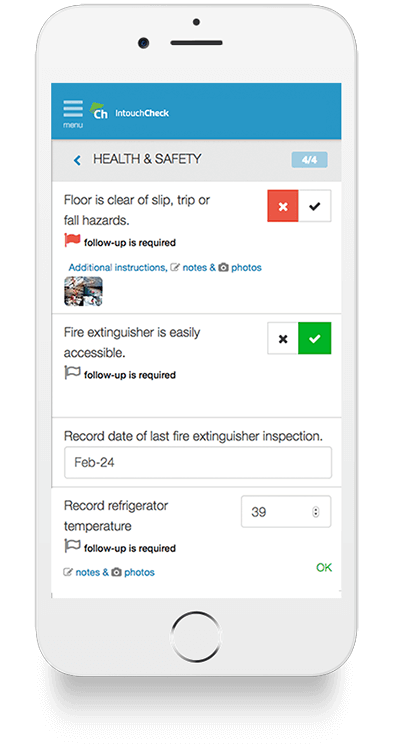 Video Transcript
"Imagine you could save your teams hours of paperwork everyday, keep them focused on delivering your standards in the field, and empower them to make decisions that have a positive impact on your business?
Imagine you could replace paper audits, inspections, field reports, checklists, and other forms with a tool that makes the entire process easier, faster and more cost-efficient?
Enter IntouchCheck. Mobile form software your teams can use to complete forms anywhere they need to, on any smartphone or tablet - even offline.
Results are submitted and shared in real-time - no pen, paper, or excel required.
When issues are found on site or in store, the people who need to know are instantly notified - so issues are fixed before they become problems.
With IntouchCheck your teams always know what's been done, what needs to be done, and by who, making them more accountable.
Tasks are assigned, tracked, and resolved making it easier to take action when needed.
Capture photos, annotations, signatures, timestamps and geocodes to get a richer look at what's happening in the field.
IntouchCheck is easy to use and get others to use, you can get started by building your own forms in minutes, it's customizable and caters to your industry.
Spend less time filling out forms, make your audit process easier, action problems faster, and drive operational performance.
Sign up for a free trial of IntouchCheck today and learn more about how you can use mobile forms at your organization."