4 min read
How to Choose a Mystery Shopping Provider: Top 4 Questions to Ask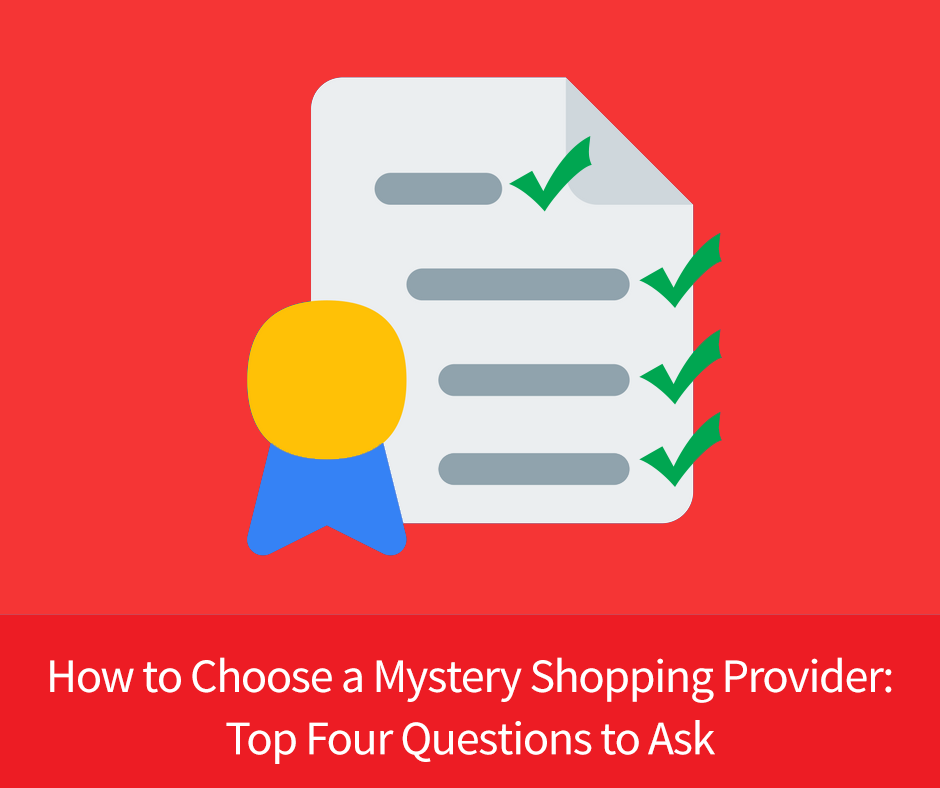 In North America, there are over 150 mystery shopping companies that are members of the MSPA (Mystery Shopping Providers Association). With so many options available, figuring out how to choose a mystery shopping provider might seem overwhelming. Luckily, finding the right match for your business comes down to asking a few specific questions.
In this blog, we'll reveal the four questions you should ask potential mystery shopping providers to ensure their services align with your business needs:
Do they have experience and knowledge in your industry?
How do they select their mystery shoppers?
What kind of support do they provide?
How do they provide feedback on program performance?
1. Do they have experience and knowledge in your industry?
Look for a provider who has years of experience and success designing mystery shopping programs for companies in your industry. A great place to start is to ask who their current and past customers are and if they can provide you with a customer testimonial. Additionally, they should be able to display industry expertise through the questions they ask and recommendations they make about your program and business objectives.
2. How do they select their mystery shoppers?
Some shops may be more straightforward than others. Depending on your goals, your shop may require lengthy interactions with your staff or detailed shopper responses. In these cases, you want to make sure the shoppers selected are the right fit for the job.
Look for a mystery shopping company that offers certification where shoppers are required to answer specific questions to qualify for your shops. Experienced mystery shopping companies will have access to a large database of certified shoppers and have the ability to hand pick shoppers based on their rating.
Some businesses have locations in remote areas, which makes recruiting mystery shoppers more challenging. If your business falls into this category, you should choose a provider that has a team of schedulers that reach out to shoppers and ensure those harder-to-fill shops are completed.
3. What kind of support do they provide?
Choose a mystery shopping provider that will assign a dedicated client manager to your program. An excellent client manager has experience in the industry and will spend a significant amount of time crafting and customizing your program. They will offer their expertise and knowledge from past programs similar to yours and help you define the criteria that your program will measure to achieve your goals.
Client managers will use their expertise to ensure your program questions are clearly worded, free of redundancies, and that the posed questions align with your objectives. They will also provide ongoing support throughout your program by monitoring its performance and suggesting refinements as necessary.
For example, let's say you own a restaurant chain and you'd like to measure if the servers are appropriately greeting your customers. You might want to ask did someone greet you at the door or did you seat yourself? The problem with this question is that it's a double barrelled question, meaning the question touches upon two issues, but only provides one answer. Instead, client managers should suggest this question be broken down into two separate questions, Did someone greet you at the door? And Did you seat yourself? To ensure you're asking clear questions that provide clear, actionable insights.
Lastly, look for a provider that has an in-house review team. Review teams will assess the results of your program and make sure all the information provided by shoppers is accurate and complete before it gets delivered to you. This ensures you receive a quality report and saves time from having to go back and forth between you and the client manager.
4. How do they provide feedback on program performance?
A solid mystery shopping provider will help define your program objectives and will provide actionable results through high-quality data analysis and reporting. Look for a mystery shopping provider that delivers your program results through a robust reporting platform. If you are planning on mystery shopping multiple locations, having all of your results in a single dashboard customized to your needs means that you can:
Review custom reports on your most important KPIs and create alerts to notify you of specific results, ex: if a mystery shopping score is below average.
Identify top opportunities for improvement so your team will always know where to focus their effort.
Set specific goals and compare performance across locations over time.
View data across all of your locations, then drill down to view results by specific filters such as date, hierarchy, location, or a specific questionnaire and create location-level dashboards to ensure teams only see data that's meaningful to them.
Receive real-time data reports to your mobile device as soon as they are submitted.
Conclusion
When evaluating mystery shopping providers, it's important to ask the right questions so you choose a provider that will not only help you measure the right aspects of your businesses performance, but will ultimately help you create a program that will empower you to improve customer experience.
Already mystery shopping your stores but not quite satisfied with the results? If your mystery shopping provider is not delivering these services, it might be time for a change.