5 min read
Tips for Cleaner Stores, Amazing Foodservice and More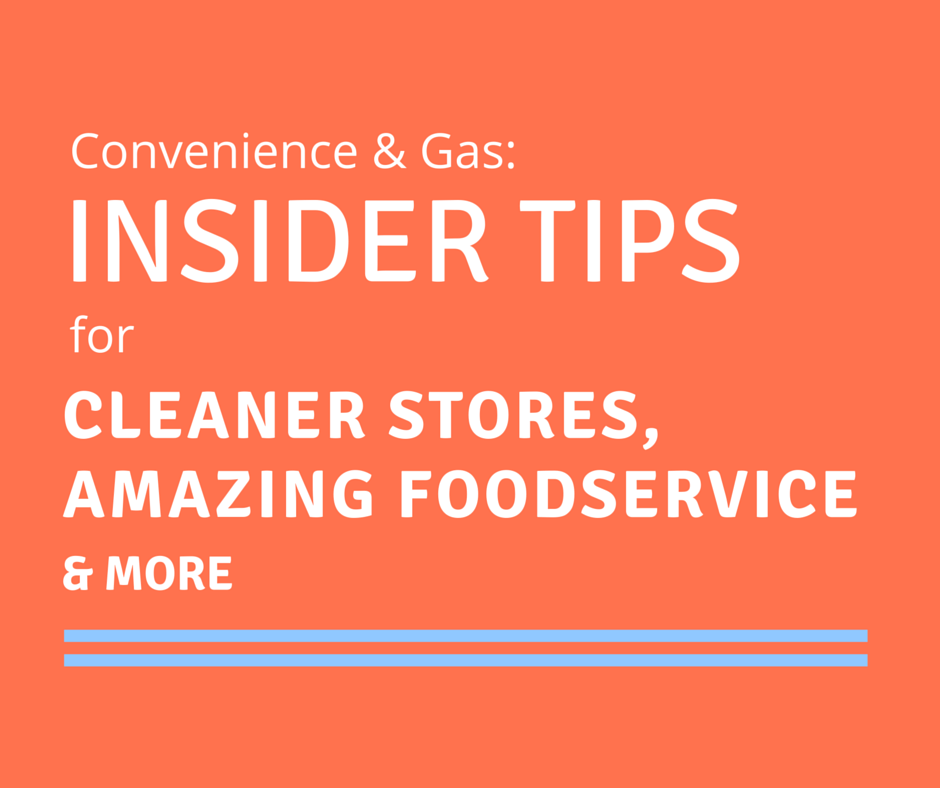 All convenience and gas chains share the same goal: for drivers to see their sign, recognize the brand, and make a pitstop.
The need for a pitstop is rarely just about filling up on gas - it's also about stopping to use the restroom, getting a coffee or a bite to eat.
What influences a customer's decision to stop and choose your c-store again and again, versus driving onwards towards a competitor? There are five areas of your operations that generally impact this decision:
Exterior cleanliness

Interior cleanliness

Merchandising

Coffee

Foodservice
For over a decade, we've partnered with CSP Magazine to conduct a mystery shopping study on top performers in the industry. We've learned that excelling in these fives areas (in addition to customer service) is a sure way to outshine your convenience and gas chain competitors.
We even developed a tool to help chains keep on top of these things all the time. IntouchCheck mobile audit and checklist software allows you to measure compliance every day, and gives managers the tools to improve execution and fix issues before they impact your customers.
Exterior & interior cleanliness
Exterior cleanliness is the first impression a customer gets of your store and is a great indicator of what they might expect to see inside. It has the potential to stop someone from grabbing a coffee, or cause them to drive by to find a new place to stop.
Once inside, a messy interior or washroom is enough to encourage them to leave quickly and never come back.
How to achieve clean stores your customers will love you for with IntouchCheck
Focus your teams on cleanliness on an ongoing basis and hold them accountable without having to nag. You can setup automated reminders for teams to perform unlimited cleanling checklists as frequently as you need for things like pump stations, trash cans, ashtrays, washrooms, and more.
Create a cleaning checklist in IntouchCheck. You can even require teams to add photos verifying that items are clean.

Schedule how often you want the check completed.

Create an email reminder that will automatically let teams know a check is approaching, or if it's been missed.

See a list of incomplete checks, and easily follow-up with managers to see what's going on.
Merchandising
Neatly stocked shelves and displays make your stores look more appealing and make it easy for customers to quickly find what they're looking for. Nailing down the size, arrangement and placement of displays is also key to keeping your suppliers happy.
How to build beautiful displays your customers will love to shop with IntouchCheck
Empower teams to beautifully stock your stores and bring promotional displays to life according to supplier guidelines. You can create and schedule unlimited merchandising checklists for upcoming promotions to ensure execution is consistent across locations.
Imagine you have a new promotion approaching at the end of the week. You can get it launched across your locations without a hitch. Simply...
Create and schedule a checklist for an upcoming promotion in IntouchCheck. You can even attach planograms and instructions for teams to reference so execution is clear and simple.

Require teams to upload photos when the display is built to confirm compliance.

Call out non-compliant issues easily by adding and annotating photos during merchandising audits.

Setup automated email notifications so managers are immediately notified when issues are found.
Coffee
The cleanliness of your coffee station helps reinforce the quality of your products. The coffee station is generally a high volume area, and it only takes one spill to have a big impact on its appearance.
How to never miss a spill with IntouchCheck
Keep your teams on top of checking if the coffee station is clean, fully operational and stocked with cream, sugar and freshly brewed coffee. Setup unlimited checks and schedule them as often as needed to ensure your customers always get an exceptional cup of coffee.
Create a coffee station checklist in IntouchCheck. You can even use the number question type to record the temperature of coffee.

Get richer insights and learn root-causes of problems by using skip logic and multiple choice.

View top issues so managers can gain insights on how to prevent them in the future.
Foodservice
Foodservice is becoming a tenet of the convenience and gas industry, and chains are feeling the need to up their game to compete against fast-casual and quick-service restaurants.
With so much competition out there, customer expectations for quality food are higher than ever.
How to serve fresh food your customers will be excited about with IntouchCheck
Direct team efforts on keeping food fresh and following health and safety standards. Create and schedule unlimited food checks for things like expiration dates, made-on dates, cleanliness, and temperatures as often as you need. This will help you stay compliant with food health and safety standards, and reduce product waste.
Create a food check in IntouchCheck. Use the date picker to record expiration or made-on dates.

Setup user permissions to designate who is allowed to perform certain checklists, and where.

Flag issues found during checks so managers are instantly notified and can action them immediately.

Discuss to fix problems, and mark when resolved.
Conclusion
Automating, scheduling and notifying your teams about checks allows you to focus teams on meeting operational standards on an ongoing basis. By performing checks more frequently, your teams can fix issues before they impact your customers - giving you a loyal base of customers who will pick your brand over competitors.
You can improve team execution in these five key areas with IntouchCheck:
Exterior cleanliness

Interior cleanliness

Merchandising

Coffee

Foodservice