With the holiday season fast approaching, there's no better time to ensure best practices are being followed across your stores. Deloitte predicts a 4% increase in holiday sales this year, which can mean a lot of business, production, and chaos for your stores.
Retailers want to be prepared for the increase in sales, but don't want to risk being stuck with too much overstock after the season comes to an end. There's a fine line between purchasing large amounts of stock and having a surplus that you're not able to sell during the quieter months. Your teams put a lot of hard work into merchandising and sales during the holiday season, so you want to make sure they're set up for success and ready to handle the challenges of a fast-paced retail environment.
In order to avoid that unwanted surplus and give your customers a great holiday shopping experience, there are four key areas you should focus your teams' efforts on. In this blog, we'll explain how IntouchCheck mobile form software can help achieve this focus and improve store performance in the following four areas:
Inventory
Organization
Store displays
Preparation for next year
Inventory
The first area of focus for your teams should be on inventory. To help keep your deliveries on time and ensure your teams are prepared to process shipments efficiently, set reminders for your management. This will save them from struggling to handle unexpected deliveries and be prepared to process the new inventory by scheduling enough staff.
You can use IntouchCheck to create and schedule custom inventory checklists for whenever a new shipment is set to arrive. Getting started is simple and quick. Import all of your exisiting checklists from Excel, build your own with the easy-to-use form builder, or select from our library of pre-made mobile form templates.
Set auto-reminders when checklists/deliveries are approaching to empower managers to follow up if a shipment doesn't arrive on time. Teams can use checklists to verify inventory is correct for each product in the shipment. When numbers don't align, action plans are automatically created and the right people are notified of the issue, so they can begin resolving the problem immediately.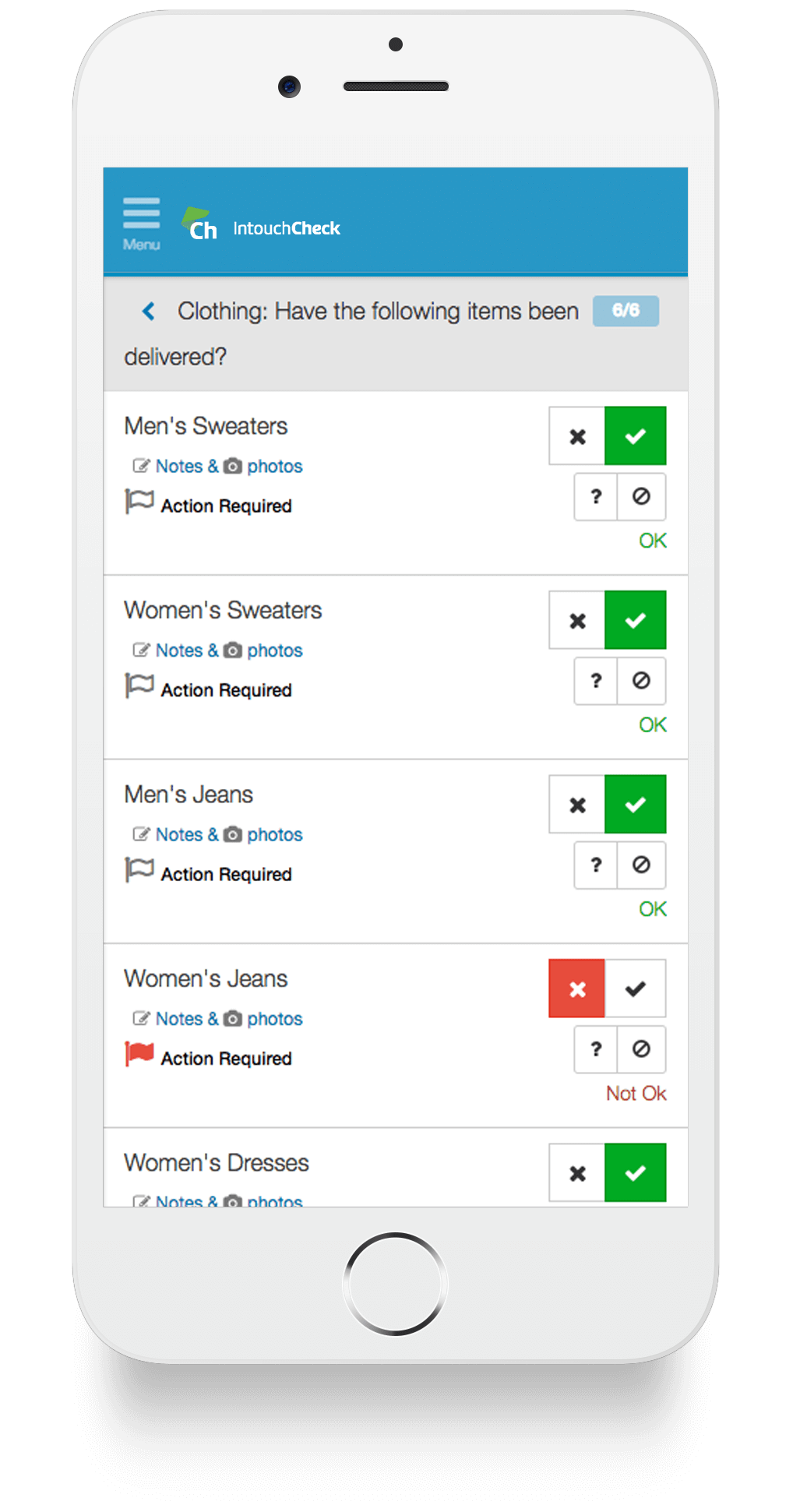 During this busy time of year, it's crucial to have all items in stock. If shipments are missed, items don't arrive. If inventory isn't correct, you risk lost sales or overstock - directly impacting your bottom line. Give your teams the tools to better manage your inventory process from start to finish, and come out of the holiday season successful.
Organization
From the warehouse to the storefront - organization is key at this time of year. With a spike in daily traffic coming through your doors, it's easy for things to get moved around or misplaced. Messy stores can turn customers away, and directly impact your sales.
Don't let a busy shift cause organization to fall behind. Use IntouchCheck to create and schedule unlimited cleaning checklists for the front and back of yours stores. This helps improve focus and execution by telling teams exactly when and what they have to do to keep your stores organized. It also prevents your managers from having to micromanage teams and allows them to focus on higher-level tasks.
Store displays
Beautiful store displays and product placement will help facilitate sales. Place your most popular holiday gifts and year-round best-sellers at the front of your store and center of your displays. During the craziness of the holiday season, many customers need gift ideas and will be on the lookout for products that are easy to gift.
When staff are building your displays, use IntouchCheck to attach planograms and guidelines to your merchandising checklists so they know exactly how to execute. Have your managers perform merchandising audits and compare displays to the attached planograms. You can also require them to attach photos of the displays and add annotations and comments to highlight excellence or call out specific items that require attention.
By simplifying the merchandising process, you'll ensure that your holiday merchandising campaigns are executed properly and help drive revenue.
Preparation for next year
The final area you want to focus your teams on this retail holiday season is preparation for next year. It's never too early to start planning, so once they've survived the chaos, have them meet to discuss what what worked well and what didn't.
With IntouchCheck you can easily track results with visual analytics and robust reporting. All checklist results from inventory to cleaning and merchandising will be rolled up into one place. You can see top issues and how they were resolved, see top performing and low performing locations, which areas of your operations thrived and which didn't - and then make decisions to drive improvement for next year.
Communicate results with your teams empower them to come up with suggestions and best practices for next year's holiday season.
Conclusion
Mobile form software will help retail teams stay focused and on track during the holidays, while providing management with added visibility into their day-to-day operations. This enhanced focus will ensure that all processes go smoothly during your busiest time of year and that your stores meet sales goals.
Want to drive visual merchandising and planogram compliance at your stores?
Try IntouchCheck free.