In a fast-paced industry like hospitality, success is dependent on timely execution. But, managing the constant in-and-out of guests, long list of daily operational tasks, and special events can make finding efficiencies challenging.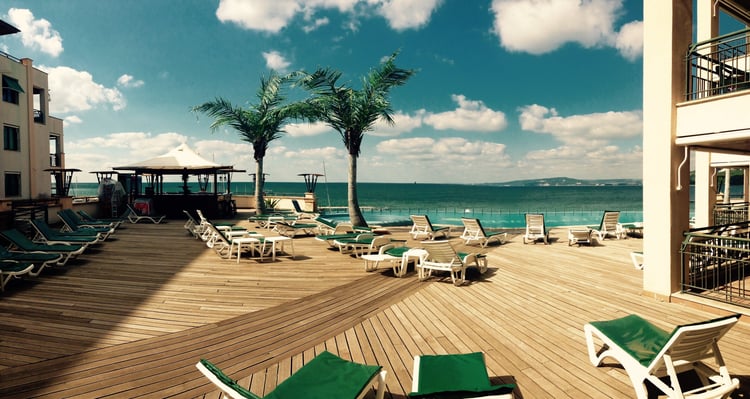 Using paper checklists to track whether or not these tasks are being completed provides minimal visibility into execution and limits team accountability. Add operating multiple hotels to the mix and driving consistent team execution and reporting on performance is next to impossible.
If you're looking for a solution to automate the daily tasks of your hotel staff and gain clearer insights into the performance of your hotel operations, you're not alone. A quarter of hoteliers are looking to replace pen-and-paper processes with software that will help improve their operations.
Mobile hotel audit and checklist software improves team productivity, reduces time spent manually filling out paper forms, and eliminates data entry so teams have more time to spend face-to-face with guests. Plus, real-time, centralized reporting empowers your teams to action issues faster and easily make decisions to drive consistent performance across locations.
In this blog we'll explain how you to improve hotel operations by using a hotel audit software to measure the performance of things like hotel housekeeping checklists, hotel maintenance checklists and pool inspection checklists. By converting from paper forms, you will improve your hotel operations in four ways:
Automate daily tasks to keep teams focused on your standards
Streamline housekeeping and hotel maintenance processes
Create an effective issue management processes
Centralize data to empower teams easily make decisions to drive business improvement
Learn more about how a hotel checklist app can help your business.
1. Automate daily tasks to keep teams focused on your standards
Accountability is a key driver of performance. Even if your teams are aware of their daily responsibilities, when accountability isn't established it's easy for important tasks to be forgotten during the chaos of the day.
Use hotel audit software to turn your teams on autopilot when it comes to completing daily operational tasks so they can focus the majority of their attention on your guests. Schedule and assign recurring work like housekeeping, property maintenance, cleanliness, food safety checks, and more as often as needed. Teams will automatically be alerted by email when a check should start or when one has been missed, keeping them focused on meeting standards and keeping your hotel operations running smoothly.
2. Streamline housekeeping and hotel maintenance processes
The cleanliness, ambiance, functionality and amenities at your hotel all impact your ability to provide first-class hospitality experiences to guests. Using housekeeping checklists and hotel maintenance checklists are crucial to ensuring rooms are set up with everything guests need, cleanliness is to standard, and building lights, elevators and pools are working. The constant need for these checks requires a lot of time from your teams when using paper processes.
Mobile checklists streamline the time it takes teams to measure housekeeping and hotel maintenance performance, and help boost team execution. Your teams can easily complete checklists on their smartphone or tablet, fill out checklists faster, and submit the results in real-time - eliminating data entry and allowing managers to action results faster.
Empower teams to deliver efficiently and consistently by adding guidelines, photos or instructions to checklists. By providing a reference to your standards, you will enhance team knowledge and improve execution across locations.
3. Create an effective issue management processes
Finding issues and fixing them before they impact your guests, is a top priority for your managers. But, when there's a lag time between checks being finished and managers having access to results, issues linger. The longer issues go unresolved, the more likely problems will be forgotten - especially without a centralized place to track issue management.
With mobile hotel audit software, results are submitted in real-time. You can set up auto-emails that contain a detailed PDF report of results or alert specific team members when issues are found. Instead of digging through emails to check the status of action plans, you can use a real-time communication portal to assign issues to team members, set due dates, discuss, add photos and resolve. Plus, issues are all centralized so managers have a clear overview of what issues need to be prioritized.
4. Centralize data to empower teams easily make decisions to drive business improvement
Collecting actionable insights is the final, and perhaps the most important piece of the puzzle when it comes to finding efficiencies and improving hotel operations. Measuring operations with paper methods often means data is buried in spreadsheets, inaccurate, and not centralized. With little to no visibility into the measurement of daily performance, you and your teams lack the insights needed to make decisions to drive business improvement.
Mobile hotel audit software collects and centralizes data from all locations in-real time, and presents the results in visual analytics that provide a clear picture of performance. You can easily view trends, root causes of issues, and top and low performers - without having to compile spreadsheets and charts. By identifying champions, you can encourage those teams to share knowledge and best practices across locations to help drive overall performance. By giving teams a constant window into performance, you will empower them to make decisions to drive execution.
Conclusion
Measuring daily performance is the first step towards finding ways to improve your hotel operations. How measurement is enforced, how results are shared, and how data is compiled are the remaining keys to finding efficiencies and improving your operations. By using hotel audit and checklist software to measure, enforce, share and report you can improve your hotel operations in the following ways:
Automate daily tasks to keep teams focused on your standards
Streamline housekeeping and hotel maintenance processes
Create an effective issue management processes
Centralize data to empower teams easily make decisions to drive business improvement