4 min read
How To Improve Your QSR's Drive-Thru Experience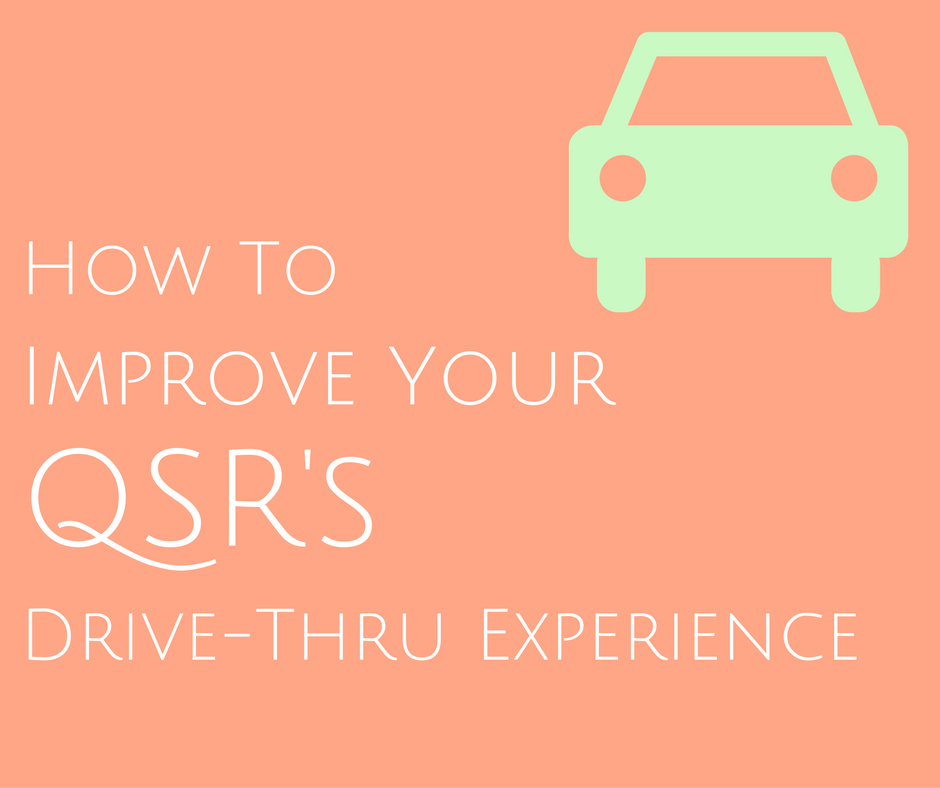 In the QSR industry, overall customer experience is largely impacted by how well the drive-thru operates. With a whopping 70% of service coming from the drive-thru, it's critical that businesses have processes in place to help increase speed of service and throughput while improving order accuracy.
In this blog, we'll discuss five things that QSRs can focus on to ensure teams consistently serve the right orders to the right customers, operate efficiently, and deliver an excellent customer experience.
Repeat orders back to customers
Take the time to get orders right
Organize and properly stock ingredients
Follow company standards
Clearly label signage and promotional material
1. Repeat orders back to customers
How many times have you gone through a drive-thru and left with the wrong order? Even when all steps of service are performed correctly, it's possible that other factors can lead to a mix up. Perhaps one car goes ahead of another when two drive-thru lanes merge into one, throwing off the order sequence.
To avoid this, employees should be trained to repeat orders back to customers at the speaker, and again when the order is handed off. If there's an issue, this gives your teams the opportunity to fix the order before the customer drives off with it and is unsatisfied with their experience.
2. Take the time to get orders right
Speed of service is one of the most important factors of a drive-thru's success. That being said, if wait times are low but accuracy is compromised, fast service no longer matters to customers. Instead of having your teams rush to achieve the fastest service times, start by focusing their efforts on ensuring that orders are prepared properly.
Train teams so they know exactly how items should be prepared and packaged - step by step - in order to meet your standards. When teams take the time to follow steps, more orders will be made correctly and will end up saving your team's time in the long run. If a customer has to go through the drive-thru twice to fix a botched order, more customers will be held up and service times will be slower. When food is made properly the first time, it saves time, cuts food waste costs, and keeps your customers happy.
3. Organize and properly stock ingredients
Properly stocking all food stations and keeping menu ingredients organized prevents your teams from rushing around the prep area and makes it easier for them to make orders quickly and accurately.
Customers won't be happy about hot sauce on their burger instead of ketchup - a mistake that can easily happen if similar looking condiments aren't stored in their proper spots. Prevent these types of errors by verifying that teams set up workstations properly.
Mobile form software makes it easy for managers to quickly and accurately perform checks throughout the day to verify things like opening and closing procedures are done properly. With real-time submissions and automated action plans, your teams will be instantly notified when problems are found during a check. For example, if while closing the restaurant ingredients are marked as low or out, the right people will be alerted of the problem. The problem can be assigned and a due date set to ensure the necessary ingredients are restocked quickly and service isn't impacted the next morning.
4. Follow company standards
Make sure staff are trained to provide the correct number of napkins, plastic cutlery and condiments etc. for each order. Instead of simply tossing them in the bag based on an assumption, they should be following company standards. Not only does this benefit the customer experience by building consistent expectations, but it also helps reduce unnecessary waste, and therefore cost.
Based on customer demand, decide how many packets of ketchup are required for each order of fries, or how many napkins per sandwich. Put standards in place for your teams to follow. Prevent unnecessary items being thrown away because they were given an unnecessary amount, or customers leaving unhappy because they didn't receive a reasonable quantity of something else.
5. Signage and promotional material clearly labeled
A key part of the drive-thru experience starts before customers even arrive. Ensuring that your drive-thru is properly labeled and easily accessible has a large effect on your business. Although Starbucks is now a leader in the quick service industry, they had their own setbacks when first establishing their drive-thru. Customers weren't sure where the drive-thru was, where to order, pay, or collect their coffee. This is why proper signage at your drive-thru is very important to the customer experience.
Make it easy for customers to find the entrance and once they're there, you want to make sure your menu and promotional signs are properly labeled and presented in a way that attracts customers and promotes specific menu items. If you have any drive-thru specials, make sure they are front and centre. Use the drive-thru menu as an opportunity to decide what you want your customers to see and which items you want to boost.
To ensure the signage at each of your locations is set up correctly and in good condition, use mobile form software to perform signage audits. When creating checklists for signage, give your teams examples to reference by attaching photos and instructions into the forms so it's clear how to execute your vision. To be certain that signage is up to standard, require teams to attach photos of signs and menus, when submitting audits.
Conclusion
The drive-thru is a key part of your operations that accounts for the majority of business in the quick service industry. In this fast paced environment, it's important to prepare your teams as best as possible for their contribution to your customer experience. Keeping speed of service and accuracy in mind, there are a five ways to improve the drive-thru experience for your customers and capitalize on revenue.
Repeat orders back to customers
Take the time to get orders right
Organize and properly stock ingredients
Follow company standards
Clearly label signage and promotional material