3 min read
Retail Holiday Guide - How to Maximize Your Sales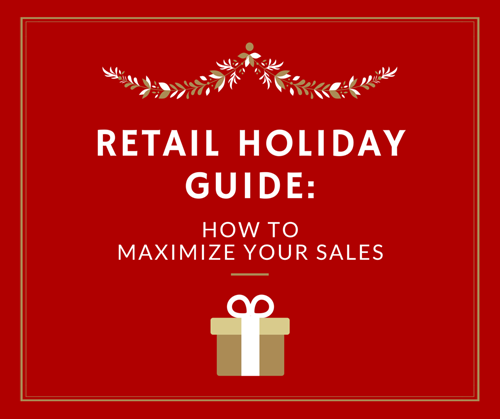 With the holiday season upon us, many retailers will make approximately 20 - 40% of their overall annual sales during these last two months of the year (National Retail Federation). It's a crucial time that can significantly increase sales if proper execution and marketing are considered.
If you're a retail manager or store owner, this season is a great time to maximize your sales and profits through proper organization with the use of a checklist app.
With so many retailers swamped with holiday merchandise and no strategy to display their products, using a checklist software gives you the chance to set yourself apart from competitors. You can eliminate the chaos that typically results from holiday shopping, by keeping your store organized and your displays up to standard - so you can provide a great experience for your customers.
Here are three tips on how to maximize your sales this holiday season:
Select your best merchandise
Keep your warehouse organized
Effectively display your merchandise
1. Select your best merchandise
The first step to maximizing your sales over the holiday period is to select your merchandise wisely. Figure out what your best selling products are, and stock your store with them.
Narrow down your merchandise by identifying and providing the products your customers want. You need to focus on your best sellers – products that sold the best from September to November.
By using a mobile checklist app, you can:
Build custom checklists that require daily inventory checks to ensure your store is properly stocked
Set due dates and reminders to confirm the checklist is completed on time
Create different checklists for all your locations to keep track of your best selling products at each store
When daily checks are performed, you're able to monitor your stock. If one of your top sellers are running low, this issue can be flagged for follow up. This notifies you immediately, allowing you to work with your team to quickly rectify the problem.
By keeping track of store favourites, and ensuring they are always in stock - you will help maximize sales. A study conducted by Emory University found that almost 50% of intended purchases are lost when a customer sees inventory out of stock (Beaconstac).
2. Keep your warehouse organized
Once your holiday merchandise is selected, organization is the next important step. But, organization doesn't just pertain to floor merchandise, it also applies to your warehouse.
A poorly organized warehouse is bad for fulfillment and can lead to misinformation about what's available. Since you risk losing up to 50% of sales if you have items that are out of stock, keeping an organized warehouse should be a top priority. It improves your abilitiy to locate stock quickly, and place new orders as soon as possible.
Think about treating your stock room as you would the front of your store. Mobile checklists will help you do this. For example, if while conducting an audit or check, an employee finds the warehouse in disarray, they can flag the issue for follow up. They can also attach and annotate photos so that problem areas are clearly identified.
3. Effectively display your merchandise
How you display your merchandise is one of the most important steps to maximizing sales during the holiday season. With an increase in stock and customers, over time stores start to look tired. Shelves eventually empty and merchandise assortments get messy. This can cause customers to pass your store and head over to a competitor, whose merchandise is neatly displayed.
To avoid this, shelves should be checked every morning and periodically throughout the day to ensure that your displays are fully stocked and displayed neatly. Mobile checklists allow you to track whether or not displays have been setup correctly. Attach planograms to checklists so you can compare them to in-store displays, then attach and annotate photos during the audit to highlight problems or success. Flag any non-compliant issues for follow-up so they can be resolved as soon as possible.
This holiday season rotate popular merchandise around the store to your most high traffic areas. This keeps your displays fresh, helps bring in more customers, and increases the chance shoppers will see more of your products.
Conclusion
Selecting and stocking the right merchandise for your store allows you to maximize your sales over the holiday season. To do this properly, you need to ensure your warehouse is well organized so you are easily able to locate, track and order new inventory. Additionally, you must effectively display your merchandise so customers feel drawn to your store, and have a quality experience while shopping. By using these three retail tips, you can ensure a happy and successful holiday season.