7 min read
Essential Restaurant KPIs to Measure Customer Experience Success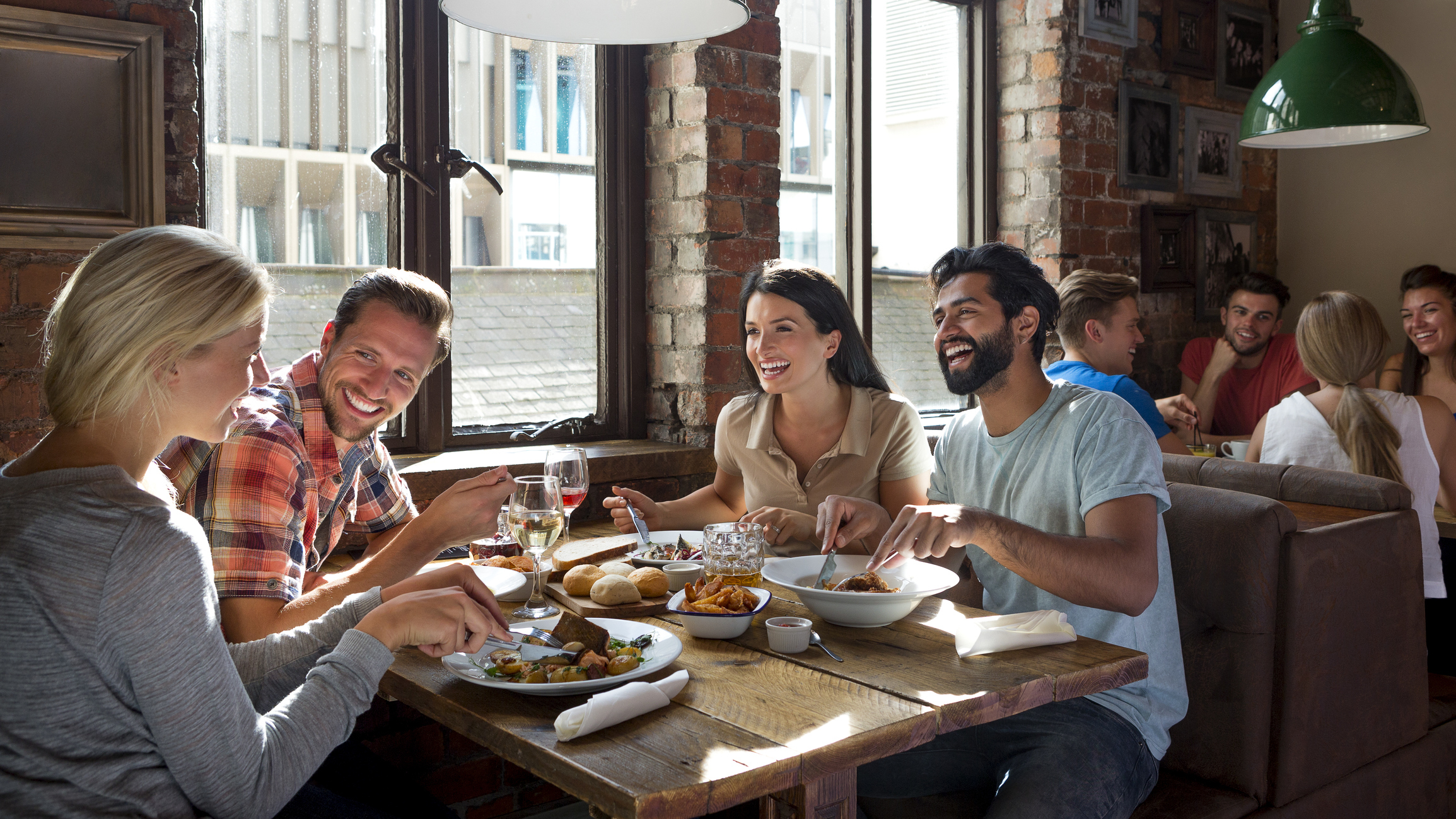 As a restaurant owner, you know exactly how competitive the industry is and how critical customer experience (CX) is to business success. An estimated 17% of restaurants fail within their first year, and the overall average lifespan of a restaurant is 4.5 years, so it's imperative that restaurants find a way to stand out from the competition while ensuring their CX initiatives are supporting overall business goals.
For CX to be meaningful and support the overall business, there needs to be a focus on linking business Key Performance Indicators (KPIs) to CX metrics.
Here are 10 essential restaurant KPIs linked to customer satisfaction, customer loyalty, and employee engagement to help you measure customer experience success in your restaurant.
Download the KPI Cheat Sheet here.
Customer Satisfaction KPIs
The more satisfied your customers are, the more likely it is they'll spend more time in your establishment, share their positive experience, and become long-term, loyal customers.
A Deloitte survey found the top three elements that created a memorable experience were friendly and authentic service (34%), real-time information (22%), and listening to customer needs (20%).
While CSAT is the main measurement of customer satisfaction, there are several other KPIs that can be measured to determine how satisfied your customers are with your services.
1. Overall Customer Satisfaction (CSAT)
Overall CSAT measures how well a product or service meets your customer's expectations. This information is gathered via customer surveys where customers rate their overall satisfaction for a given experience on a scale of 1 to 7, and only responses of 5 or above are considered towards the positive score, meaning the percentage of customers who were somewhat satisfied to very satisfied.
CSAT (%) = # of Satisfied Customers (5 or Above) / Total # of Satisfaction Survey Responses
2. Online Rating (Review Sites & Social Media)
Hearing what's being said about your restaurant is one of the most powerful ways to determine how satisfied your customers are. If guests are sharing positive reviews on sites such as Yelp and on social media, it's an indication that your restaurant is doing something right.
With both online rating sites and social media, the focus should be on actively tracking these reviews across all channels to identify touchpoints in the customer journey that guests appreciate and specific areas that could be improved, as 94% of US diners are influenced by online reviews.
You can measure your online rating by monitoring customer sentiment (positive, neutral, or negative) to understand overall brand perception across all channels. This is best done using a customer experience management (CEM) platform that includes tools to analyze text and detect patterns using artificial intelligence. With the right CX tool, online ratings are tracked by individual restaurant location to pinpoint specific issues or ones that span multiple locations.
Customer's write reviews all over the web, but if there is one site to monitor your reviews, it's Yelp. More people review restaurant's on Yelp than any other website in the U.S.
3. Time per Table Turn (TTT) and Table Turnover Rate (TTR)
If a customer waits longer than anticipated for a table, this is likely going to affect their CSAT. It may also affect many other things such as customer retention, repeat visitors and ultimately revenue. To accurately quote wait times for customers — and to not overbook the dining room — table turnover and time per table turn are important KPIs to measure.
TTR: (Number of Guests Served in Restaurant / Total Number of Tables)
For example, if you have 10 tables in your restaurant and you serve 30 groups over the dinner rush, then your table turnover rate is 3 turns per table during the dinner rush.
TTT: Time When the Table Cashes out — Time When an Order Is First Inputted
Understanding your average time per table turn during specific times of the day, such as your busiest periods, will help estimate wait times for guests. Quoting an accurate wait time is essential to setting expectations for customers and making sure they don't leave unhappy.
The customer data needed to calculate both table turnover rate and time per table turn can be found in most Point of Sale (POS) systems which can be integrated with a CEM platform to make correlations to all other CX data.
4. Average Transaction Size and Up-sell Rate
Average transaction size and up-sell rate are great indicators of customer satisfaction because the better experience a customer has overall, the more likely they are to spend more during their next visit. This could be through their selection of pricier menu items, bringing in a larger group of guests, or willingness to purchase add-ons or upgrades such as appetizers, desserts, or featured cocktails.
Increases in average transaction size can often be attributed to effective up-selling. The alternative is also true, as decreases in average transaction size may pinpoint areas where you may be missing out on sales opportunities. You can calculate your average transaction value and up-sell rate on a daily, monthly, or annual basis.
Average Transaction Size ($): Total Value of All Transactions / Total Number of Transactions

Up-Sell Rate (%): Number of Customers Who Purchase an Add-On / Total Number of Transactions
5. Speed of Service
Knowing how quickly your guests are being served is vital to identifying potential areas of improvement. Slow service is a huge turnoff for customers and while they may be willing to forgive it happening once, they won't be so understanding if it's an ongoing problem.
Understanding your speed of service enables you to identify if your front of house needs more training or kitchen processes need to be refined to create better output. To measure speed of service, a CX platform can be integrated with your POS and kitchen display systems to determine order times. This data can be compared with CSAT over time to track changes or improvements.
Customer Loyalty KPIs
A superior guest experience creates loyal customers who will return to your establishment time and time again. KPIs such as customer retention and Net Promoter Score (NPS) provide valuable insight into your operations and are a great benchmark for measuring customer loyalty.
6. Customer Retention
Customers that frequent your establishment on a regular basis, known as "regulars" are a strong indicator of customer loyalty and an essential part of continued success. A Harvard Business School study found that increasing customer retention by 5% increases profits between 25% to 95%. Customer retention rates vary greatly based on the type of restaurant, size, location, and other factors, so the objective should be to establish a baseline for your operation and consistently improve on it.
Customer Retention Rate (%) = (# of Customers at the End of the Period - # of Customers for That Period) / (# of Customers at the Beginning of the Period)
7. Net Promoter Score (NPS)
NPS is recognized worldwide as the benchmark for measuring customer loyalty. Your NPS represents the level to which customers would recommend or not recommend your brand or establishment to someone else.
NPS data is gathered through a single survey question "would you recommend our restaurant?" on an answer scale of 0-10. NPS scores can range from -100 (if every customer is a detractor) to +100 (if every customer is a promoter).
Promoters (score 9-10) are customers who are devoted to a brand; they are the bread and butter of a business.
Passives (score 7-8) are often happy customers but are indifferent to the products or services and less loyal than promoters.
Detractors (score 0-6) are customers who are not satisfied and will likely not remain long-term customers.
The better CX, the more likely someone is to promote your business for you. You need to know who your promoters are and nurture that relationship with them while identifying your passive audience and detractors so you can work on turning them into promoters.
Net Promoter Score (NPS) = % of Promoters - % of Detractors
Employee Engagement KPIs
Your employees are responsible for executing CX standards by offering great service and ensuring customers are completely satisfied. When you have happy employees, they're more engaged and more likely to deliver a better overall experience to your guests.
8. Employee Turnover
Every industry has to deal with some level of turnover whether it be voluntary or involuntary. It's important to define an "acceptable" level of turnover that works best for your restaurants.
High employee turnover impacts CX in several ways, including lack of consistency for your customers. When employee turnover is high, you're constantly in the cycle of training new employees and not having staff with the skill level needed to support great service. Over time, your customers may notice that your turnover is high — which is a potential red flag — or experience poor CX as a result.
The goal should be to create a culture within your restaurant that improves employee retention and turnover by regularly collecting employee feedback and giving your employees a voice to share their opinions.
Employee Turnover Rate (%) = # of Employees Who Left During That Period / ((# of Employees at the Beginning + # of Employees at the End of the Period) /2)
9. Employee Retention
Employees are the ambassadors for your brand, so when you find one who delivers superior CX, you want to hold on to them. Customers love seeing familiar faces, and getting to know your staff allows them to feel connected to your restaurant.
Retention rate is based on a period of time (usually annually) and measures how many employees leave or are let go during that time period.
Employee Retention Rate (%) = # of Employees Who Stayed over the Period / # of Employees at the Beginning of the Period
10. Employee Satisfaction (ESAT)
Companies with highly engaged employees outperform their competitors by 147%. The undeniable link between employee satisfaction and CX means it must be an ongoing focus.
ESAT can be measured through employee surveys, round tables, and team meetings. The key with ESAT is to listen to employee feedback and then create actionable plans to address concerns. The more valued and satisfied employees feel, the more likely they'll be to meet and exceed customer expectations.
Conclusion
No matter which KPIs you decide to measure for your restaurant, understanding how each one relates to overall CX is critical. Having the right tools to measure these KPIs and continuously tracking improvements to CX will lead your restaurant towards continued growth and success.