4 min read
11 Things You'll Learn from Restaurant Mystery Shopping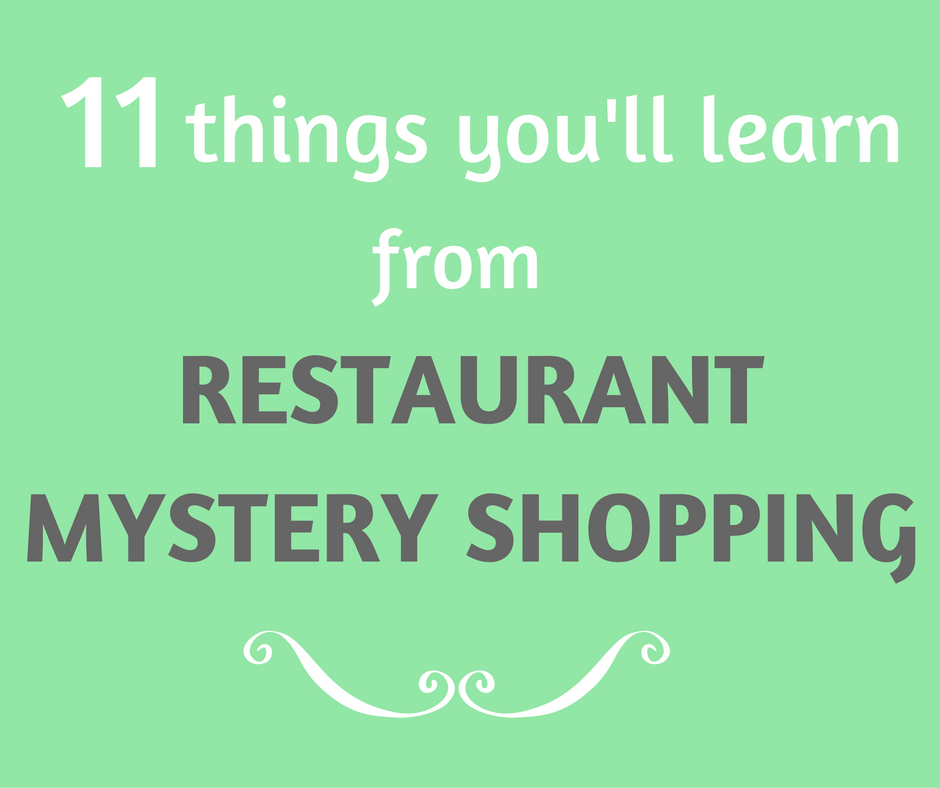 Restaurant mystery shopping programs focus specifically on measuring your business's performance and evaluating all aspects of the dining experience. By using one of these programs, you'll get insights into your operations that you wouldn't otherwise be privy to and learn more about your customer experience.
By gaining a better understanding about how your teams are performing, you'll be able to identify which priorities teams need to stay focused on to keep your operations running smoothly.
This blog looks at 11 things you'll learn from restaurant mystery shopping in these three main categories of your restaurant:
First impressions
Steps of service
Food quality
First impressions
First impressions can make or break the customer experience. In order for someone to become a returning customer, they need to try your restaurant first. Think about what people see in the first few minutes they enter your restaurant that could either encourage them to stay and eat or deter them from entering your restaurant altogether?
Mystery shopping allows you to collect unbiased results from that first reaction people have with your restaurant. Within those first few minutes, customers will notice the exterior, how they're greeted, and what they see when they first step inside.
1. Cleanliness
One of the first things customers notice is how clean your restaurant is - this includes anything from trash outside to dust inside. You've set standards that you want your staff to meet, but things like a dinner rush can distract them from duties like cleaning. Mystery shopping will provide an unbiased view on cleanliness and reveal whether or not your teams are keeping your restaurant clean enough for your customers' standards.
2. Signage
Signage needs to be more than just visually appealing - it needs to be up-to-date and positively represent your brand and promotions. Have mystery shoppers evaluate all promotional material to ensure that your restaurant is accurately representing itself in an enticing way.
3. Greetings
When evaluating how your staff are performing, don't forget your hosts and hostesses. Being the first people that customers have an interaction with, their jobs are very important. Are they acknowledging customers in an appropriate amount of time? Use restaurant mystery shopping to find out how people are being greeted and how smooth the process is.
Steps of service
Servers are the people your customers interact with the most, so it's important to find out how they are performing. Often times, the impression your customer has of their server can sway their overall experience at your restaurant. Restaurant mystery shopping lets you measure whether servers are following your steps of service, their rapport with customers, and more to identify how they can improve.
4. Table greeting
The time it takes for your servers to greet guests at their table is crucial. Use restaurant mystery shopping to find out how long it takes your staff to greet a table of customers to gauge how your restaurant is operating. If it's taking too long for tables to be seen, maybe you're understaffing. Use these results to make better decisions for your business.
5. Server greeting
Do you have certain points you want your servers to mention when they greet a table? Is there something that helps improve your customer experience, sales or bottom line like servers introducing themselves by name, listing daily specials, or suggesting an appetizer right away? With restaurant mystery shopping, find out if your servers are following your standards consistently when greeting tables.
6. Upsells
A large part of raising the average guest cheque comes from upselling to your customers. Use a mystery shopping program to learn whether servers are recommending a premium liquor, the option to add meat to a salad or cheese to bread. These are quick wins that you want to make sure are being executed.
7. Speed of service
In order to keep flipping tables - and for customers to be happy with their dining experience - you want to make sure everything is executed in a timely manner. You can measure the speed of service through restaurant mystery shopping to find out if teams are meeting your standards.
8. Overall attitude and food knowledge
Can your servers answer questions and make recommendations? Use mystery shopping to measure your team's knowledge of food and drinks. Take this insight into your day-to-day operations and use it to decide if teams require more training, or need a refresher of your employee handbook. Being able to answer a customer's questions and speak to menu items is an important part of a server's interaction with guests, and contributes to your restaurant's credibility.
Food quality
This is debatably the most important part of your customer's experience. Even if other aspects of your restaurant need some work, you might still get people coming back because they love the taste of your beef bourguignon.
Mystery shopping at your restaurant will give you insight into three key areas of your food quality.
9. Time it took for food to arrive
There are many different factors that determine a customer's level of enjoyment of your food - and the time it takes for it to arrive is a big one. Restaurant mystery shopping lets you see the average wait time for meals. If quick menu items are taking too long, then you can use that information to improve kitchen processes.
10. Food presentation
You can't always be there to see each plate before it leaves the kitchen. Have mystery shoppers assess food presentation so you can evaluate your chef's, expo and servers. Find out how items are being plated and measure that it's meeting specifications.
11. Taste
How does your food taste to customers? Small mistakes in the kitchen can have a large effect on the taste of your food. If a steak is overcooked, it can completely ruin a dining experience. Use mystery shopping to measure how your food tastes, so you can ensure that meals are always cooked to perfection.
Conclusion
Consistency is key. Restaurant mystery shopping lets you see into your operations from an unbiased third party's perspective. Measure important aspects of your customer experience and use that data to drive performance.
In order to find out where you need to improve, you'll need to evaluate your overall service. With restaurant mystery shopping you'll learn about eleven important factors from three different areas of the dining experience:
First impressions
Steps of service
Food quality