6 min read
Six Tech Essentials to Streamline Your Restaurant's Operations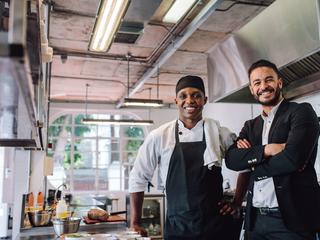 Guest Post by Saleem Khatri, Chief Executive Officer of Lavu
When running your restaurant, there's a lot to keep track of: your customers, their orders, your staff, payments, inventory, and more. However, there's a way to keep tabs on all of these seemingly independent tasks. Even more, you can keep track of most of these activities from one place. So, how is that done?
The answer is technology. With certain pieces of technology, you can streamline your restaurant's daily operations, improving your restaurant's relationship with its customers and staff in the process. What's more, you can lower labor costs and make your customers even happier. That said, there are some tech essentials you need in order to successfully do this.
In this article, we'll take a look at the following tech pieces you need to succeed:
Robust POS system
Payment processor
Mobile forms software
Security features
Mobile ordering tablets
Online ordering technology
1. Robust POS system
Chances are, you have a POS system (or, point-of-sale system) set up in your restaurant already, but ask yourself this: Does it offer all the functionality that you need to run your day-to-day operations? Does it meet all of your management needs? If your answer is no, it's important that you take a step back and think about what you need to run your restaurant more efficiently.
With robust restaurant POS software, you can use a variety of functionalities concentrated in one system. These include:
Menu customization. Efficiently take down the details of each order placed, and ensure nothing is missed in the process. For instance, make sure your staff doesn't forget to ask how a customer wants their burger cooked. To do this, configure your menu to have a prompt appear when certain items are ordered.
Order status monitoring. See where the order is in the process, whether it's being prepared or ready to serve.
Employee shift scheduling. Management can schedule shifts, and staff members can efficiently trade shifts, as well as clock in and out.
Inventory tracking. View in real-time the changing costs of food, what's selling and what's not, what you have in total in your inventory. This will also allow you to pinpoint your most popular items and adjust your stock accordingly.
Customer databases. View order history and customer contact information, such as their name, email address, and phone number. This also allows you to personalize your interactions with customers when you have their information readily available.
With an iPad POS system, you can do all of the above functions without relying on a legacy POS system, which is usually based around central kiosk hardware and has to be physically installed. On the contrary, iPad POS systems are cloud-based and allow you to easily perform each task from anywhere in the restaurant.
When you have all of these capabilities rolled into one system, you can reduce the headache that comes with completing these tasks independently of one another and access it all in one place. This also decreases the chances for error and will keep your system updated automatically.
2. Payment processor
When looking at payment processors, there are a few factors you should consider. A payment processor handles transactions from various channels, such as credit cards. It's important to look for a payment processor that:
Is already part of your POS system. Using an all-in-one POS system makes it easy to keep your data organized and all in one place. Replacing your entire POS system might not seem like a great investment at first. However, the cost-effectiveness that comes with the new system can help pay for the upgrade.
Protects your customers' credit card data while it's being processed. Look for a payment processor that is PCI compliant, meaning that it meets the security standard for organizations that handle credit cards.
By using a secure and efficient payment processor, you will keep your customers' information safe and keep them happy in the process. But even more, you'll be able to keep your data accurate and organized, which will increase your overall efficiency.
3. Mobile forms software
When working to improve the day-to-day operations of your restaurant, mobile forms software is a great way to create audits, checklists, reports, and inspections. Keep tabs on your productivity and efficiently communicate any issues to the right people, right away.
Some of the benefits of incorporating mobiles forms include:
Increased productivity. Reduce costs on paper and save time by automating your internal audit and checklist process, and immediately send the results to the appropriate people.
Improved execution. React to issues faster and allow management to get a better understanding of the team's performance and identify where it can be improved.
Better visibility. See what's being accomplished each day, as well as over a longer period of time. Follow trends over time and use this information quickly and effectively.
Mobile forms software is a great way to increase productivity. By decreasing costs and reducing the amount of time you invest in checklists, audits, and more - you can ensure that your staff focuses on the right things, which will improve your restaurant operations and ensure a better customer experience.
4. Security features
It's important to be sure that all of your processes are secure. By incorporating security features into your restaurant's database, including your POS system and payment processor, you'll achieve a higher level of protection for your business and your customers.
More specifically, keeping your database secure will:
Protect your restaurant's reputation
Keep your customers' information and payment details safe
Keep your customers satisfied and encourage them to return for future visits
Security is key to keeping your operations running smoothly. To give you an idea of what to look out for, here is a great article on website authentication that details who uses website authentication, why it's important, and the best practices for incorporating it.
5. Mobile ordering tablets
A great way to streamline your restaurant's daily operations is by incorporating mobile ordering tablets into your ordering process. With mobile ordering, you can keep orders flowing and in turn foster a better relationship between your employees and your customers. Mobile ordering allows you to:
Reduce staff error. When the customer places the order themselves, they know the order will be well-understood and all the details will be accurately conveyed to the kitchen.
Speed up the process. Rather than waiting for a staff member to come by your customer's table, you can speed up the process by sending the order straight to the kitchen.
Provide additional ingredient information. You can even include information about nutritional value or allergies, as well as other information, such as vegan and gluten-free options.
Provide receipt options. You can give your customers the option to receive a receipt via text or email, in addition to print.
By using mobile ordering tablets, you can decrease the chance of order inaccuracies, speed up the process, and show your customers that you care about their experience, safety, and health. Stay on top of your order-taking process and consider incorporating a mobile ordering system to keep both your staff members and customers stress-free and happy.
6. Online ordering technology
Nowadays, customers love the ability to order online, and online food orders are a large part of restaurant revenue. Incorporating online ordering technology into your website and POS system can work to streamline the order-taking process and drive in more sales.
By using a robust online ordering tool, you can:
Track sales within your online ordering system
Integrate it with your website and brand it to be consistent with your restaurant's look and feel
Update your menu whenever necessary
Allow customers to set up an account, order from a mobile device, and prepay
Send orders directly to the kitchen for a faster turnaround
Just like with a payment processor, when setting up your online ordering platform, it's important to add a level of security to the interface, especially if your customers are creating accounts on your platform. Swoop offers a great piece on user authentication and what to look for when allowing people to register for an account on your site.
Conclusion
There are several ways technology can help streamline the daily operations of your restaurant. Whether you're looking to invest in mobile forms software, a more robust POS system, shop around for new payment processors, or incorporate mobile ordering tablets and online ordering - all can benefit your restaurant.
It's even more effective when this technology is an all-in-one solution, so be sure to look for POS systems that offer these features. Once you've incorporated these tech essentials, you'll be on your way to streamlining your process and improving your staff and customer experiences!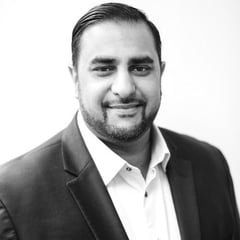 Saleem Khatri is the Chief Executive Officer of Lavu
Saleem has a "founders mentality", with a track record of working with high-growth software companies. He is a rare breed of someone who is both a hands-on leader and a strategic visionary and brings with him a myriad of inspiration, technical acumen, and a passion for our products, services, and customers. Saleem earned his MBA from the Harvard Business School and his undergraduate degree from the University of Michigan -- Ann Arbor.