5 min read
Energy In, Dollars Out: Ideas for Cutting Restaurant Energy Costs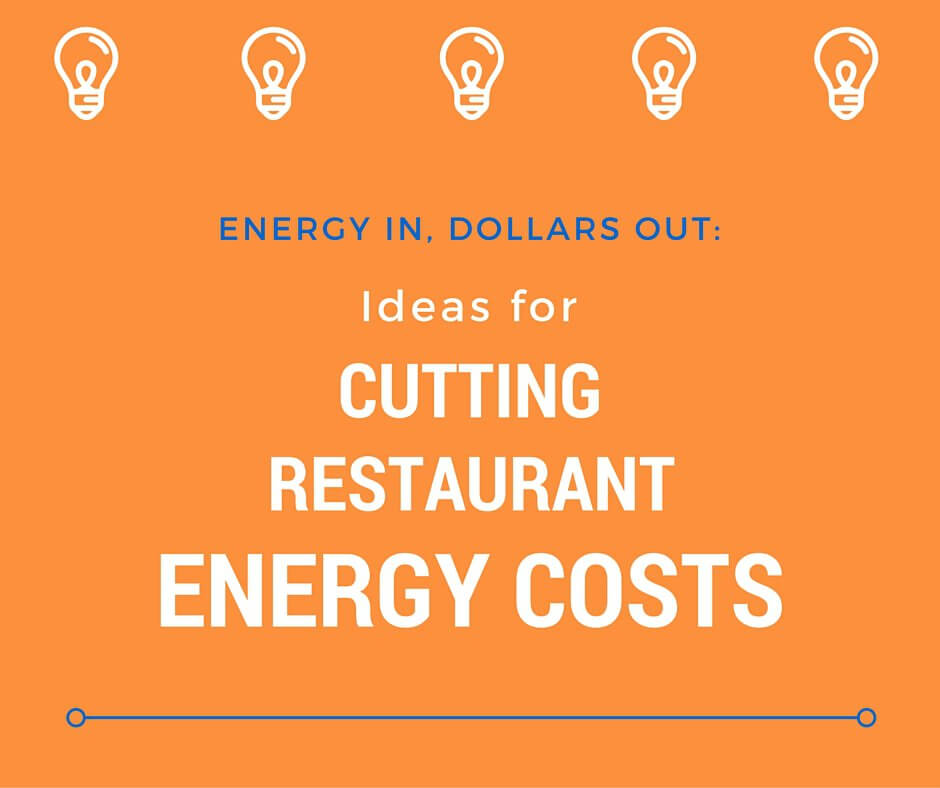 Afraid to look at your restaurant's monthly energy bills?
You're not alone; energy consumption makes up a large portion of a restaurant's overhead costs. Because of a restaurant's narrow profit margins, just a 20% reduction in energy costs can result in an additional 1% of annual profit.
To start cutting energy costs, take a look at how your kitchen and front-end are operating. There are simple tactics you can implement right away to begin decreasing the impact utilities have on your energy spend. Swapping out bulbs, properly maintaining equipment, and modifying the way you use your existing equipment can have an immediate impact on your savings.
So how do you get started with an energy efficiency makeover to cut operating costs at your restaurant?
Slice Into Kitchen Equipment Costs
Food preparation eats up about 30% of the average restaurant's energy bill. Cut power costs in the kitchen by upgrading, maintaining, and/or optimizing usage of equipment to decrease your overhead. Here are two tips for cutting costs associated with kitchen equipment:
Turn off energy-intensive equipment when possible: Fryers and steamers are expensive to run. Easily cut unnecessary costs by turning off some of your fryers during slow hours. This can help you can save up to $600 per year, per fryer. If you operate multiple locations, those savings will add up significantly.

Select more energy efficient equipment: Replacing kitchen equipment for more energy efficient pieces can yield significant savings. Using more efficient steamers can result in savings of up to $2,000 per year, per steamer. While purchasing new kitchen equipment is a more expensive solution for cutting costs, it can be implemented over time to avoid high, up-front costs to your business.
Dim the Impact of Restaurant Lighting Costs
Fast food outlets are particularly impacted by energy costs. With the high traffic of customers and long hours of operation, lights are kept on for significant periods of time. Choosing light bulbs with a longer lifespan that use less energy will help lower electricity costs, especially for locations that are open for extended-hours.
Fluorescent and compact fluorescent lighting (CFL) and light emitting diodes (LED) lighting can help you cut energy costs in four ways:
Longer life: CFLs last 10 times longer than common, incandescent bulbs.

Less heat: CFLs and LEDs generate less heat, lowering cooling costs and cutting fire risks.

Lower energy consumption: CFLS use up to 75% less energy than traditional bulbs, and LEDs use up to 90% less, which can result in significant savings.

Tax savings: As of 2016, the EPACT lighting tax offers significant tax advantages for commercial building owners who switch to LEDS - a possible deduction of up $1.80 per square foot.
Freeze Out Refrigeration Costs
Refrigeration costs can make up about 18% of a restaurant's energy bill, making it a good area to focus on for impactful savings. Newer, energy-efficient models aren't always in the budget, so take a look at the procedures currently in place to identify inefficiencies you can address without upgrading. Here are three places you can start:
Log temperatures more often: It's common for refrigerators and freezers to run at colder temperatures than necessary, resulting in high energy costs. Logging temperatures more often will help you control temperatures and reduce energy costs.

Equipment maintenance: Don't make your units work harder than they have to! Dirty coils make the cooling units work much harder and longer to maintain low temperatures. By cleaning and replacing these more often, you'll drive down refrigeration costs.

Rethink your ice: It's more energy-efficient to make one large batch of ice than it is to run two half-sized batches, making large-batch commercial ice machines actually more economical than their smaller counterparts. Rather than purchasing an additional 300-pound or 500-pound machine, consider switching to one 1,000 pound machine.
Reduce Hot Water Spend
Depending on climate zones, water heating can make up anywhere from 10-30% of the energy consumption for U.S. restaurants, making these systems an ideal target for energy savings. Start making changes to your hot water spend with these three tips:
Lower the heat: Set the temperature to 140ºF for your commercial dishwasher and to 110ºF for kitchen hand-washing stations. These temperatures are hot enough to clean, but not so high that they consume unnecessary energy.

Stop the leaks: The average restaurant loses $1,000 or more per year from minor leaks. Performing regular checks to ensure sinks, mop stations and dishwasher are functioning properly can help prevent money lost from leaks.

Load and use efficiently: Run the washer full to lower your per-piece cleaning costs - it costs the same amount per load to heat the water and run the washer whether you wash a single glass or a full load.
Turn the Dial Down on Temperature Costs
Heating and cooling costs make up about 30% of your monthly utility costs. Adjusting the temperature inside your restaurant and using automated thermostats to cut heating and cooling costs can substantially lower your energy consumption. Here are two simple ways you can do this:
Care and maintenance: Cleaning your heating and air conditioner filters more often help them run more efficiently - reducing energy costs.

The rule of three: Lower the heat by three degrees in winter and raise the temperature by three degrees in summer. Your restaurant will still be comfortable, but you'll cut energy spend.
Conclusion
Simple changes to your restaurant's equipment schedules, lighting, refrigerator temperatures, hot water and building temperatures can result in significant savings over the course of the year.
Fast food giants like Subway, Baskin Robbins, Starbucks and Arby's make concentrated efforts to use innovation and sustainability for their store design and daily operations.
Whether you are ready to start small with easy changes that require minimal investment, or invest more money into new equipment - taking steps now to reduce energy spend will help you cut operational costs year after year.